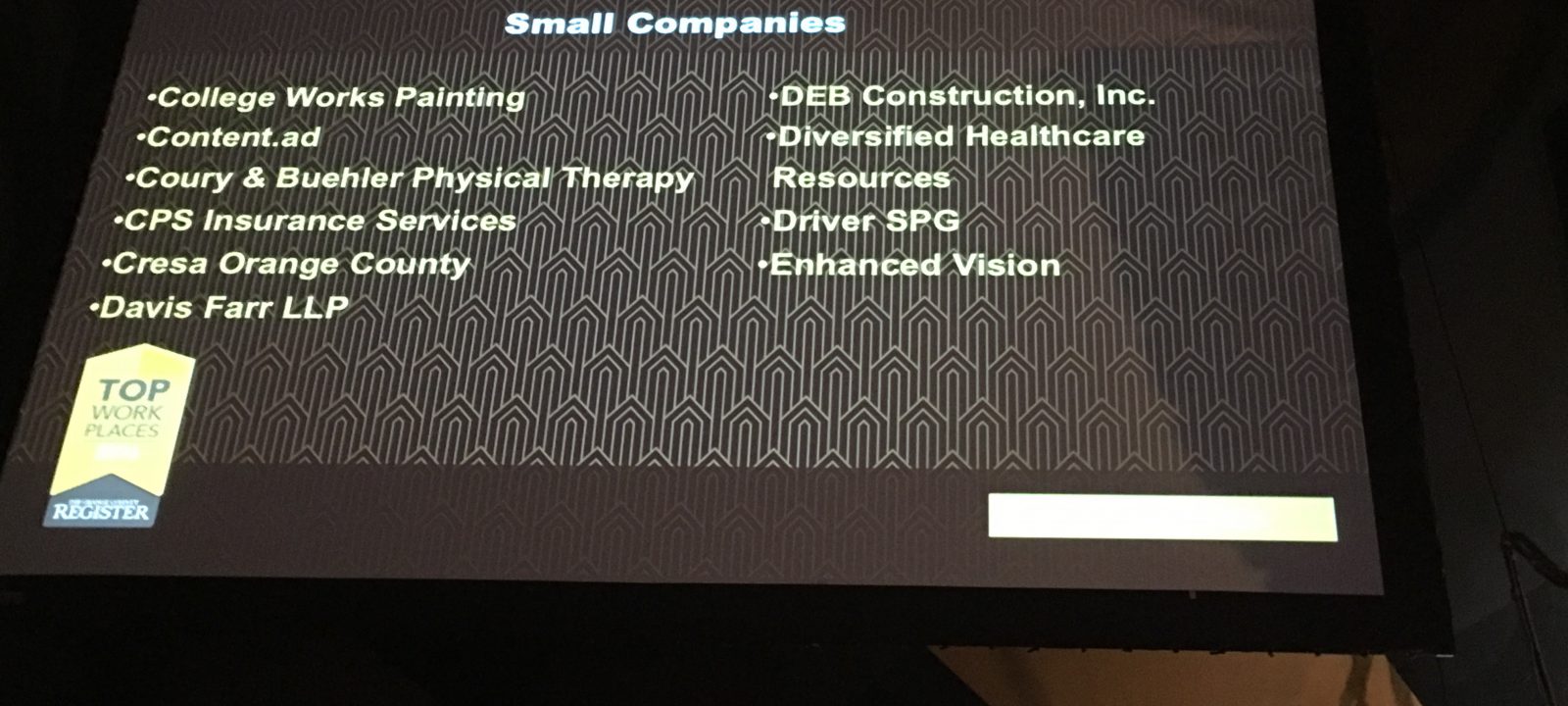 Investing in people – Construction firm's employee focus extends beyond workplace
By Bill Quinnan
For O.C. Register Special Sections
Employees of DEB Construction Inc. list a variety of reasons why they enjoy their jobs – they feel they are treated like family, they are challenged to grow and advance, they have supportive leadership, and they enjoy the people with whom they work. These are just a few of the qualities mentioned by DEB Construction staff through anonymous surveys conducted by job-satisfaction research firm WorkplaceDynamics.
It was based on such feedback that DEB Construction was named an Orange County Register's Top Workplace in 2015 and 2016.
According to Jean Lee, Employee Relations and Culture Manager at DEB Construction, one of the main qualities making the company a Top Workplace is its belief in investing in its employees.
"DEB does not just invest in improving what the employee can bring to the workplace; they invest in the whole person," Lee said in an e-mailed response. "Employees are offered training classes that will help them grow in their career as well as self-improvement classes to improve their life.
Employee-focused approach 
DEB Construction President Adam Vali said, "We build better people. We happen to build buildings; our ultimate responsibility is building people."
Company leadership fosters a positive work environment by supporting their employees and working collaboratively with their staff, Lee noted.
"When you come to work here you become part of a team. We are all consistently striving for excellence in our work while enjoying what we are doing with our co-workers every day," she said.
Lee noted that employees fit into the company's culture when they strive for excellence in their work and show compassion toward clients and co-workers.
"We try not to take ourselves too seriously and thrive in a collaborative culture here at DEB," she added.
The DEB Construction management team has found that promoting employees from within the organization is the best way to obtain the happiployees, Lee said. Several current managers within the company were initially hired into entry-level positions and were promoted to their current roles within the organization.
In less than a year, Lee's own role has evolved from that of human-resources manager to Employee Relations and Culture Manager, a newly created position that utilizes her strengths and passions.
"I now will be able to identify the needs of and improvements for our employees, enabling them to meet their highest potential in their position," she explained.
DEB Construction hosts a variety of events throughoest and most successful emut the year to encourage employee camaraderie, including an annual field-staff fishing expedition and family events such as an upcoming beach trip.
Lunch is often provided for employees, and the company always has healthy snacks available in the break room. The office offers a shuffleboard table as well as a soothing relaxation room with a fireplace for employees who might need to take a break from a busy day.
The company and its staff support many local fundraisers within the community. This year, DEB Construction raised money for the Leukemia and Lymphoma Society. The firm has also donated to local colleges and to the City of Anaheim.
"We love our jobs and work environment. Mostly, we really enjoy working with each other," Lee said.
Solid legacy
DEB Construction's history extends more than 40 years, beginning with its founding in 1975 in Anaheim by structural engineer Yakub "Jake" Vali and two business partners. Taking its initials from its three primary business functions – design, engineer, and build – the firm initially focused on small residential and commercial jobs.
Vali bought out his two partners three years later, also opening a branch office in San Jose. He established a relationship with Bank of America early on, and the company gradually became well known for its construction of banks throughout the West Coast.
Jake Vali's retired in 1994, handing the reins to his son, Adam Vali, who has served as president of DEB Construction since. Having grown up in the family business, Adam Vali had served in a variety of roles in the company over the years, including laborer, carpenter, assistant superintendent, superintendent, project manager and project executive. He also possesses a master's degree from Stanford University in civil engineering, construction engineering and management.
Under Adam Vali's leadership, DEB Construction has expanded into the healthcare construction as well as the critical-facilities market, which includes data centers, government buildings, telecommunications facilities, disaster-response facilities and critical-utility infrastructure. As with the financial-construction market, both of these segments require specialized builders who understand their unique needs.
The company has also responded to demand for green construction services. The firm began seeking LEED accreditation of its project managers and engineers in 2005, and now every project manager in its staff is a fully certified LEED Accredited Professional. The company is a member of the U.S. Green Building Council and has designed and constructed many buildings implementing the latest innovations promoting energy efficiency and low-emissions.
A certified minority-owned business, DEB Construction has completed an array of commercial general-contracting projects in California, Nevada, Arizona, Oregon and Washington.
DEB Construction Inc.
Sector: Construction
Employees in region: 55
Headquarters: Anaheim
Founded: 1975
Website: debconstruction.com
Awards
• Top Workplaces – Orange County Register, 2015, 2016
• Inc. 5000 – America's Fastest Growing Private Companies – Inc., 2007, 2009, 2014
• Top Minority-Owned Business Firms – Orange County Business Journal, 2014
• Supplier of Distinction Award – Jones Lang LaSalle, 2010
What employees enjoy
• "DEB gives you the opportunity to take classes on their dime. They encourage you to do so."
• "Because of the employees I work with and the quality of service and work we provide."
• "The collaboration between employees. The compassion we have for each other and our clients. The consistency and excellence of our work."
• "Integrity. We do what we say, internally and externally. So refreshing!"